By Marcela Garcia Corrêa, Evaristo Mesquita and Rhuan Pereira
Organic production, an important response to meet the growing demand for sustainable products, represents a market opportunity for smallholders and family farmers. But the transition from the conventional to the organic model is no easy task. In addition to challenges inherent to family production, farmers still face obstacles to obtain social and environmental certifications that would be like a passport to reach new consumers.
The valuation of organic products and the possibility to participate in street markets and initiatives like the National School Nutrition Program (Pnae) and the Food Acquisition Program (PAA) are very attractive to family farmers. However, the transition to more sustainable forms of production and consumption requires changing economic, social and cultural standards established by traditional production models, and also requires attention to aspects that go from financing to technical support to enable production.
In the Northeastern and Northern regions, the context is even more alarming: 72% of farmers do not have enough profit to take the family labor to a level above the poverty line, according to a Census conducted by IBGE in 2010, whereas 25% of the rural population lives in poverty, with income lower than BRL 70 per month per capita. In the Northeastern region, 65.5% of the families working in the farms receive Bolsa Familia (Family Grant), according to data in the Cadastro Unico (Unique Record).
Besides those difficulties, the transition process from the conventional production to the organic production is slow and costly. It may take up to three years to complete, and often farmers need to have access to credit. According to Roseilda Lima Duarte (Rose), a family farmer who grows organic products in Parelheiros (SP), the challenges persist for those who have already made the transition: because they do not use agrochemicals, those types of facilities are more subject to losses, estimated in 30% of the production. In addition to that, it is difficult to access organic inputs, such as manure to fertilize the ground, and there are logistic barriers to sell the food produced.
In order to be sold, organic products need a label as a guarantee. There are certifying bodies that conduct audits to attest if the production in a facility complies with international criteria for organic farming – the work of those bodies is specially critical for farmers interested in exporting food. The supervision of the audit process by accreditation bodies ensures the reliability of the labels in this certification modality.
On the other hand, the cost can be a barrier for smallholders, as explained by Vilson Câmara, an organic farmer in Rede Povos da Mata, Ilheus (State of Bahia): 'We, smallholders, could not afford it, because, at the time, in 2004, a visit would cost BRL 8,000.' The costs of transportation and hospitality incurred by the auditor are paid by farmers, and the investment can be even higher if the process requires more visits.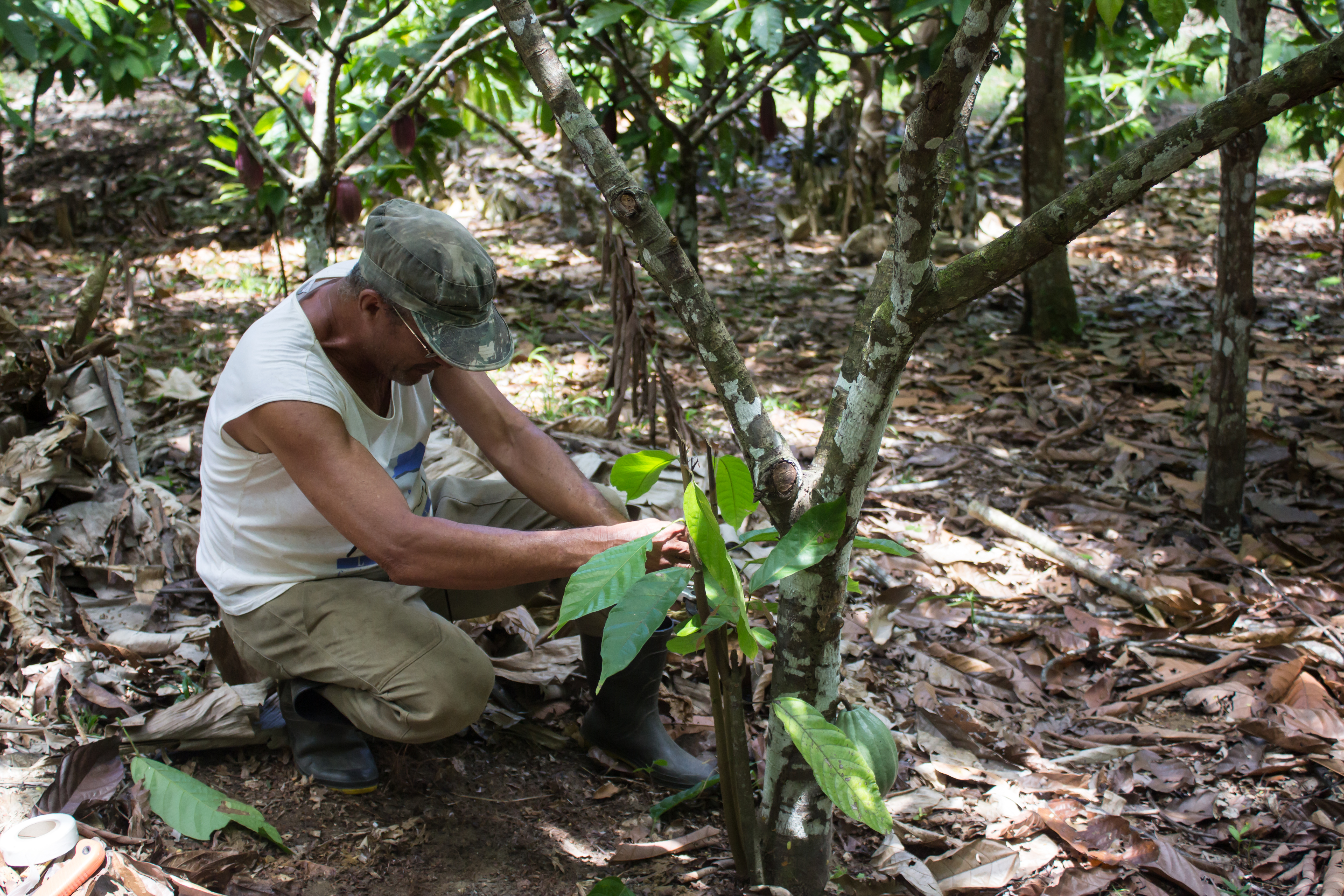 For the producers in the Rural Farmers Association in Campo Limpo (Aprocamp), in Santo Antonio do Taua (State of Para), the cost of certification made them lose the label. The audit, which used to be charged per association, started to be charged per farmer, which made the process unfeasible to many associates.
Another point of attention is the proximity with facilities that use conventional farming. The use of agrochemicals in the neighboring areas requires organic farmers to take some actions to avoid contaminating their lands. Contamination can occur through the ground, water and air, when packages are improperly discarded of, when herbicides and insecticides are misused, or when there is aerial dispersion in adjacent properties.
In addition to that, the infrastructure for family farming is often poor. One of the barriers is communication, since there is lack of Internet access and telephony. Production transportation is often hindered due to poor road conditions. 'One and a half year from now, we will only be able to drive on our road using a tractor. For about three years there have been potholes all over; it takes us one hour and 20 minutes to go downtown. For freight that would normally cost BRL 60.00, we have to pay BRL 150.00, BRL 180.00, due to poor conditions on the road', tells Vilson Câmara about the difficulty for access.
Production planning also requires care from organic farmers. Without using chemical products to ensure productivity, the calculation to estimate production becomes complex and makes planning harder. In addition to that, the management plan of an organic property is very detailed and requires time and dedication from farmers to keep compliance.
Possible paths for the label
To facilitate access of smallholders to the organic market, one of the alternatives that can be explored are the Participatory Guarantee Systems (PGSs). In that certification modality, farmers form groups to mutually support one another in the certification process and in adjusting properties to the organic production, through a joint effort.
According to Câmara, in PGS, 'one farmer oversees the other, they are the ones who certify farmers. As they are present here in their daily routine, they know what the others are doing.' In addition to facilitating access to the guarantee label, that model also offers a beneficial community engagement for producers.
Another way to support organic family farming is through technical training and access to financing. In that case, there is room for the State and the third sector, with initiatives that contribute to local development. One example of how the Third Sector operates is Taboa Institute, who works with communities in Serra Grande, in Ilheus (State of Bahia). The work of the institute aims at reinforcing sustainable initiatives by granting credit, providing incubation, and strengthening businesses.
The State also offers initiatives, such as the National Policy on Agroecology and Organic Production (Pnapo), whose goal is to mobilize states and municipalities to encourage, strengthen and expand organic production systems. Moreover, the National Program to Strengthen Family Farming (Pronaf) supports smallholders through different financing modalities, with specific lines to support agroecology and implement technology to make production more sustainable.
However, there are bureaucratic barriers to purchase the Pronaf Declaration of Fitness (DAP), which hinders access to credit. Investments in the sector have also been reduced: the amount of contracts and the volume of credit accessed have also dropped, from 1,988,525 contracts and BRL 19 billion in credit in 2013 to 1.019.716 contracts and BRL 18 billion.
The annual budget of the federal government for 2019, as established by the Annual Budget Law, anticipates a decrease in investments when it comes to strengthening and boosting family farming (-25.4%) and sustainable farming (-11%).
But, in addition to the importance of public policies in supporting family farmers, businesses play a role in accessing smallholders in the market. The work Natura does with communities that live on agriculture and resource extraction in the Northern regions of the country is an example of that form of sustainable relationship. By incorporating native species into the production of cosmetics, the company provides the communities with training and infrastructure to support the strengthening of those communities in a sustainable operation.
Technology can also be a tool for farmers to access social and environmental certifications. Currently, applications of the blockchain system have been assessed in different sectors, with potential to simplify the certification processes that, in their different modalities, demand many steps and management of a variety of documents (learn more in the article entitled Technology).
In any case, extending the responsible production – beyond the infrastructure, financing and technical support needs – requires a change in the mindset about the forms of consuming and producing. The transition to that more sustainable model is also a cultural transformation (learn more in the article entitled Supply II).
Did You Know?

Data and interesting facts about farming and labels

The Brazilian agribusiness ranks number 5 worldwide, with great contribution to family farming. Most facilities belong to family groups (84.4%), which accounts for about 4 million units. They account for 35% of the GDP, and employ 74% of the labor in the field, according to the 2006 Agricultural Census.

Family farming is the major responsible for over half of the production of varieties such as manioc (87%), beans (70%), milk (60%), and swine (59%), also according to the 2006 Agricultural Census.

According to the U.N. report on the implementations of SDGs in Brazil, 'fostering family farming contributes to decrease poverty and inequality in the rural area, promote greater diversification and, potentially, enhanced resilience in food production, strengthened food supply and local sustainable development'.

Social and environmental certifications relate to the topics of two of the Sustainable Development Goals (SDGs) established by the U.N., goal # 2, Zero Hunger and Sustainable Farming, and goal # 12, Responsible Consumption and Production.

Between 2013 and 2016, organic production more than doubled in the country – a growth attributed to an increase in the participation of family farmers in that market, according to data from the Sociedade Nacional de Agricultura (National Agriculture Society).

Organic products must have guarantee labels to be sold, and those labels are issued by different bodies, such as Organizações de Controle Social (OCS, Social Control Organizations), Organismo Participativo de Avaliação de Conformidade (Opac, Participatory Body to Check Compliance) and certifying bodies, which are supervised by accreditation entities. There are over 4,000 OCS and over 5,000 Opac operating in the country, according to the Ministry of Agriculture, Cattle Breeding and Food Supply (Mapa), and to the Cadastro Nacional de Produtores Orgânicos (National Record of Organic Farmers).