Compiled by Luiza Montebello, Sofia Jamal and Daniel Hermann
DICTIONARY
Find out the meaning of expressions and acronyms used in this edition 
AAO – Associação de Agricultura Orgânica (Organic Farming Association), founded by the Agricultura Alternativa (Alternative Agriculture) group in 1989. It was the first Brazilian NGO to establish organic production norms focused on the local reality of smallholders.
Agribusiness – Commercial and industrial relationship that permeates agricultural production chains. The expression is often used to refer to significant players who use conventional techniques, machines and inputs, such as agrochemicals and chemical fertilizers in production.
Agrochemicals – Products and agents present in physical, chemical or biological processes used in production, storage and processing of agricultural products, pastureland, protection of forests, both native and planted, and other ecosystems and urban, water and industrial environments. Their purpose is to change the composition of flora and fauna, to avoid the damaging action of living beings considered harmful. Substances and products used as defoliants, desiccants, stimulators and growth inhibitors are also considered agrochemicals (Source: Mapa).
Agroecology – A set of practices that incorporate social, political, environmental, cultural, ethical and energy issues into sustainable farming. It aims to resume the production method adopted before the Green Revolution.
Agroforestry System (AFS): A production mode that adopts old forms of cultivation, combining multiple tree species with the cultivation of food and cattle breeding.
Audit – The act of examining and proving the activities conducted by an organization. For product sourcing, it aims to find out whether the entire production chain followed the standard predefined by the industry. For organic products, it validates no agrochemicals were used, for example. In the fashion industry, it checks whether labor conditions are proper and do not use slave labor.
Biodynamic Farming – A farming production model conceived by Rudolf Steiner, founder of Anthroposophy, in 1924. It is different from organic farming because, besides not using agrochemicals, GMOs or hormones during production, it also takes into consideration the integration and harmony of all agricultural activities conducted in the same property.
Blockchain – A decentralized system of networked users where there is no middleman to conduct and validate a transaction. Everybody is allowed access to current information, with no right to change it, but able to trace it back to its origin, which conveys confidence to the data entered.
Complexity – A field that studies how a certain system interacts in the world. Those systems are seen as complex, because they consist of different organisms that do not follow a pattern within the environment. However, they are also somewhat interdependent, since there is no clear boundary determining where one starts and the other ends.
Conscious Consumption – A form of consumption that seeks to maximize positive effects in social relationships, in nature and with yourself, and minimize adverse impacts (Source: Ministry of the Environment). 
Consensus Rule – Rules agreed among the participants of a given system that determine whether the transaction is valid.
Conventional Farming – A farming production method that uses chemical products and agrochemicals. 
Family Farming – A farming production method in which the management of the property is shared by the family, and agricultural activities are the main source of revenue (Source: Mapa).
Floresta em Pé (Standing Forest) Project – An initiative that encourages sustainable production and extraction in riparian communities, aligning environmental conservation with economic development in those areas.
Geographic Indication – The place that is well known for the production of a certain good or product. The Industrial Property Law # 9,729 says geographic indication is the 'indication of provenance and denomination of origin, and it assigns Inpi (National Industrial Property Institute) with the competence to establish the conditions for recording geographic indications in Brazil'. (Source: Ministry of Industry, Foreign Trade and Services)
Green Revolution – A set of practices and technologies that changed agriculture, increasing production of food worldwide. It started in the 1950s, in Mexico, where the first agrochemicals were developed to fight a pest that was adversely affecting corn production. In spite of the initial benefits of the Green Revolution, there was a lot of damage associated with the exponential increase of agrochemical use in agriculture, such as: high level of environmental degradation, increase in use of water in plantations, and reduction of genetic diversity.
IBD – The Instituto Biodinâmico (Biodynamic Institute) is the major certifying body conducting audits throughout Latin America. It is a Brazilian company the provides inspection and certification services to the following segments: resource extraction, agriculture and livestock, organic and biodynamic products.
Inmetro – The Brazilian National Institute of Metrology, Quality and Technology is an autonomous federal agency responsible for checking compliance with technical and legal norms, when it comes to measurement units, measurement methods, materialized measures, measurement instruments, and pre-measured products, among other tasks.
ISA – The Instituto Socioambiental (Social and Environmental Institute) is an NGO established in 1994 with the goal of proposing solutions to social and environmental issues in an integrated manner.
Ledger – Records of all transactions made in a certain system or organization. For blockchain, the ledger is shared among all participants. There is no such a thing as a central institution, and everyone can access the same information.
Mapa: Ministry of Agriculture, Cattle Breeding and Food Supply.
MDS: The Ministry of Social Development has a social protection program to fight extreme poverty.
Middleman – "Free" traders who pass the goods forward. They take goods from producers to consumers.
Mining – Concerning blockchain, it is a process to check transactions according to the consensus rules within the bitcoin system. Users make their computational power available for that task, and are rewarded within the network for having done so.
OCS – Organização de Controle Social (Social Control Organization). Aims at assuring quality of organic food from family farmers in direct sales.
Opac – The Organismo Participativo de Avaliação de Conformidade (Participatory Body to Check Compliance) is considered the entity who is formally responsible for the activities conducted within a PGS, and is also in charge of overseeing the system.
Organic Farming – Please refer to Organic Products.
Organic Products – Products obtained in an organic system of agricultural production or from a sustainable extraction process that does not harm the local ecosystem (Source: Mapa). They can only be sold as organic products if they are certified, except for farmers who trade directly with consumers, which does not eliminate the need for registration as part of social control organizations along with Mapa.
Organis – The Brazilian Council of Organic and Sustainable Production that aims at developing the organic products sector (organis.org.br).
PGS – The Participatory Guarantee System is a system though which organic smallholders mutually supervise one another, assuring food is produced according to Mapa rules.
Pnae – Programa Nacional de Alimentação Escolar (National School Nutrition Program). A federal government project to offer food in public schools and take action to foster students' nutrition education.
Pronaf – Programa Nacional de Fortalecimento da Agricultura Familiar (National Program to Strengthen Family Farming). It offers funding for deploying, expanding or modernizing production, specifically targeted at family farmers.
QR Code – A quick response code that can be 'read' by most smartphones. Once decoded, this code can redirect users to texts or external links, allowing them to have additional information about a certain product, news feature, among others.
Rainforest Alliance Certified Seal – An international certification that can be applied to any agricultural product in tropical countries, assuring a sustainable production management. It is a Rainforest Alliance seal, but it can also be issued by other auditors, as long as they comply with the standards.
Resource Extraction – Activity of extracting natural resources from planet Earth. It can be manually performed, or machines can be used. (Bioextraction: sustainable extraction of natural resources. Neoextraction: aggressive extraction of natural resources.)
Responsible Consumption and Production – Theme of the 12th U.N. Sustainable Development Goal (Ensure sustainable consumption and production patterns). The target is to reduce by half the waste of food per capita worldwide and achieve environmentally sound management of chemicals and all waste (Source: U.N. Brazil).
Sebrae – The Serviço Brasileiro de Apoio às Micro e Pequenas Empresas (Brazilian Service to Support Micro and Small Businesses) is a privately-owned organization that aims to bring long-term competitiveness and development to those organizations. (goo.gl/7tdJyp)
Smallholder – A person who lives in the rural area and has the possession of a piece of land no larger than 50 hectares, and explores it with his or her own labor and family members' labor. Potential help from other people is considered, as well as collective land possessions, as long as the individual fraction does not exceed 50 hectares. At least 80% of their gross revenue must come from agriculture, cattle breeding, forestry or rural resource extraction activities or use' (Source: Law # 11,428, Chapter I, Article 3, Item I).
Social and Environmental Certification – An economic instrument to differentiate products that comply with norms and criteria agreed to both in Brazil and abroad. It was created aiming at encouraging changes in production modes, associating superior quality to sustainable products (Source: AGEITEC – Embrapa Technological Information Agency).
Subsistence – A set of resources critical to the life of any human being. In subsistence farming, farmers produce all they need to survive.
Sustainable Development – Development capable of meeting the needs of the current generation, without compromising the ability of future generations to meet their own needs (Source: Brundtland Commission Report).
Sustainable Development Goals (SDGs) – Act as guides to create national policies and international cooperation. The idea is that they will guide the national and international relationships until 2030, replacing and updating the Millennium Development Goals (MDGs). There are 17 SDGs in total, among them: eradication of poverty, fight against climate change, and responsible consumption and production. (Source: Itamaraty)
Sustainable Forest Management – Forest management aiming at economic, social and environmental benefits, respecting the mechanisms that support the corresponding ecosystem. It consists of using multiple timber species, multiple non-timber products and subproducts, as well as other forest goods and services, cumulatively or alternatively. (Source: Ministry of the Environment)
Traceability – An expression that indicates the ability to detect an object. For blockchain, it allows for tracking the whole production chain of the good, from the origin of its inputs to sale to end consumers. You can even find out how many units were produced.
Triple A – AAA Sustainable Quality Program. It attests the product complies with Nespresso's basic requirements, not only the environmental ones, but also social and quality requirements.
29 RESOURCES YOU MUST READ OR WATCH TO LEARN MORE ABOUT BLOCKCHAIN, CERTIFICATIONS, SMALLHOLDERS AND FOOD
Hint: to have some of the contents translated into your preferred language, use the Google Translator tool (how to enable the tool: goo.gl/ZWtYtc). For YouTube videos, you can generate automatic subtitles in your preferred language (please see how to do it: goo.gl/KShHqS).
Blockchain: Revolução tecnológica à vista no setor de serviços (Blockchain: A Technological Revolution is Coming in the Service Sector)
With its launching expected for January 2019, the book written by FGV Eaesp professors Eduardo H. Diniz and Adrian K. Cernev will show step by step how blockchain was created, through bitcoin, explain how the technology works and why there is so much fuzz about it.
"Bitcoin: A peer-to-peer electronic cash system"
Published in 2008, this was the first article to mention the use of bitcoin as a virtual currency, and it also coined the term blockchain. The author is Satoshi Nakamoto, the creator of both technologies, and it focuses on cryptocurrency applications from a decentralized market. 
Banking on Bitcoin
The documentary (goo.gl/MfncrN) explores the early stages of blockchain and its relationship with cryptocurrencies. It shows how transactions are made through that new technology how were the speculations in the cryptocurrency market. The independent production is available on YouTube and Netflix.
Explained Series – Cryptocurrency Episode
In 14 minutes, the Netflix episode Explained covers the context in which the cryptocurrencies emerged and their role in the creation of a decentralized value exchange operation structure. It also reveals how blockchain works, the technology behind the cryptocurrencies that has potential for applications that go way beyond digital currencies.
Deep web
The documentary (goo.gl/GMbJFz) tells the history of rise and fall of one of the major networks that traded illicit products (particularly drugs) called Silk Road, from the deep web (non-visible part of the Internet), in a decentralized manner. Among the topics covered, there is the formation of a 'hacker ethics' and the ideology behind selling and buying those products, linked to a system paradigm shift. In addition to that, the documentary shows how the CIA and the FBI chased the person 'responsible' for the network, and discusses privacy as established by the Fifth Amendment of the U.S. Constitution. The documentary is available on Netflix and also on YouTube.
Blockchain: the solution for transparency in product supply chains
This article (goo.gl/KUkhSe) describes the blockchain prototype used by British startup Provenance, who seeks to reinvent supply chains in the economy through technology. There is a case study (goo.gl/v9oEXu) about Soil Association Certification, who uses blockchain to certify the food production chain.
McKinsey Articles
The article entitled 'Blockchain explained: What it is and isn't, and why it matters', published by the American consulting firm, features a podcast with future projections about the use of blockchain in a number of economic sectors. The interview is dynamic and uses interactive images (goo.gl/EtJdV1).
The second article, 'Blockchain beyond the hype: What is the strategic business value?', also available on the consulting firm website (goo.gl/KmnpEj), helps business understand better the opportunities to create value associated with blockchain implementation and whether it is worth it to invest in the technology.
Medium: 'Why Blockchain is Hard'
Differently from most articles that discuss the positive changes blockchain can cause, this article (goo.gl/ZKuYGY), written by programmer Jimmy Song, shows a debate about the obstacles to implement that technology and if, in fact, it represents a disruptive change.
Blockchain, que revolução é essa? (Blockchain, what kind of revolution is it?)
Changing the format a little bit, this video (goo.gl/XAGnSB) on YouTube channel, You Report, features an interview with Carl Amorim, an executive at Blockchain Research Institute Brazil and coeditor of the book Blockchain Revolution. In the interview, Amorim tries to answer what that technology is and what is new in it for different social and economic segments.
For those willing to delve deeper into the subject, the channel has four other interviews available about the topic.
10. TED: How the blockchain is changing money and business
In this TED Talk (goo.gl/hjwJ2B), researcher Don Tapscott helps debunk the myth of blockchain and understand it. According to him, it represents the second Internet generation and has the power to change the way society relates with money, government and business.
11. YouTube Channel: IBM Blockchain
IBM is an example of a business that develops blockchain solutions, reported through presentations and case description on a YouTube channel. It is worth exploring the channel in order to understand how blockchain is capable of making the supply and food chains more reliable.
We highlight two videos:
IBM and Maersk demo: Cross-border supply chain solution on Blockchain – example of blockchain solution adopted by container shipping company Maersk (please visit goo.gl/nfRtsV).
IBM Food Trust – Explores possibilities to use blockchain associated with the food chain (please visit goo.gl/RHmKRi).
12. CB Insights: 'Major Links In The Global Trade Supply Chain That Blockchain Could Transform' 
For those who were interested in the video about the case that applied blockchain at Maersk, the text published by CB Insights consulting firm explains in further details the changes technology will cause in marine supply chain. Please visit goo.gl/vtttyW.
13. The Economist: 'Could blockchain save the Amazon rainforest?'
The video published by the British magazine The Economist brings blockchain close to the Brazilian scenario, showing how the technology would contribute to conserve the Amazon Forest. One of the effects would be to raise consumers' awareness about the origin of their products, even reducing cases of biopiracy. Please visit goo.gl/Kjdmnp.
14. Produtos Orgânicos – Sistemas Participativos de Garantia (Organic Products – Participatory Guarantee Systems). Ministry of Agriculture, Cattle Breeding and Food Supply.
The guide published by the Brazilian federal government seeks to inform organic farmers about the operation and importance of Participatory Guarantee Systems (PGS). Please visit the publication: goo.gl/EFe4kQ.
15. IBGE – Censo Agro 2017 (Brazilian Institute of Geography and Statistics – 2017 Agro Census)
Although the results of the most recent census are not totally available on the Internet, some pieces of very useful information have already been uploaded on the platform and are sorted into four different groups: farming, cattle breeding, farmers and facilities. You can explore maps and graphs here: goo.gl/X1bJja.
For more information about agriculture in Brazil, please access IBGE maps: goo.gl/5eM359.
16. Put It on the Table Project
A FGVces initiative sponsored by Citibank Foundation, the Put It on the Table Project has the purpose of including smallholders in the production chain. Thus, it encourages greater transparency in consumption relationships, so family farmers are present in that new and fair production chain: goo.gl/abH2HR.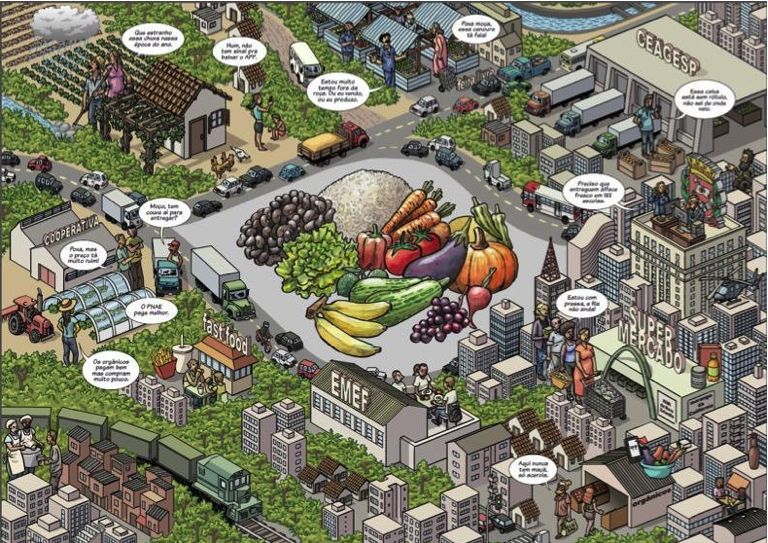 The website mapped organic street markets nationwide. By using an interactive map, users can find information about the operation of each one of them. The guide also provides healthy recipes and broad literature on organic products. Please visit feirasorganicas.org.br.
The publication describes the reality of family farmers, changing inaccurate ideas society has about the job. Also, it shows data on food production per smallholder in Brazil, among others. The author is Daniela Bittencourt, coordinator of Embrapa's Family Farming Program. Please visit goo.gl/2w4F4P.
Roda de Carimbó (Carimbó Dance Circle) (Aprocamp)
The 'Pataqueira Song' is the music Aprocamp farmers sing to plants, like a ritual, in Santo Antonio do Taua (Para State, Brazil). The singer is Dona Maria da Graça, a member of the association and of the Rede de Economia Solidária e Feminista (Solidarity Economy and Feminist Network): check it out on youtu.be/tw6W3vrU7jE.
O Globo newspaper: 'Orgânico por um bom motivo' (Organic for a Good Reason)
The article describes the fast growth in the consumption of organic products worldwide, and more slowly in Brazil. It shows how an increase in consumption pushes product prices down, making them more affordable. Please read on goo.gl/tb342G.
21. Página22 magazine: 'segurança alimentar e saúde' (Food Security and Health)
In an interview to Page 22 magazine, Sebastião Wilson Tivelli, a researcher of the Agência Paulista de Tecnologia dos Agronegócios (Apta – Sao Paulo Agency of Agribusiness Technology), from the Secretary of Agriculture and Food Supply in the State of Sao Paulo, answers about the importance of origin-based labels in food and also about food security in Brazil. Please read on: goo.gl/9zJ6sP.
Okja
The film, which shows the friendship between a girl and her super pig, reflects on greenwashing and how animals are treated in the meat industry. To learn more about the film, Page 22 magazine published a review addressing issues related to the meat industry and environmental balance. Please check it out on goo.gl/H6QMgY. The film is available in Netflix library. Please watch the teaser on YouTube (goo.gl/3DRzMz).
Sustainable
This documentary addresses the relationship between conscious consumption and the impact non-sustainable productions – such as soybean plantations that use agrochemicals, for instance – have on the soil in the long term. The plot tells the story of a family who produces organic food in the United States. Available on Netflix platform on goo.gl/rXN7W1.
WWF Brazil: O que é certificação florestal? (What is Forestry Certification?)
The NGO WWF explains the importance of forestry certification, also describing how the verification is performed by the Forest Stewardship Council (FSC), the most renowned international 'green' forestry label. Please visit goo.gl/jzrHPz.
25. Ecolabel Index
The website is like a directory of certification labels. There are 463 labels in 199 countries and 25 industries contained in its database. It has lots of information about each label, such as year of origin, who manages it, updated news. On ecolabelindex.com.
26. Graphic: Increase of environmental labels worldwide
In 2011, Ecolabel Index counted 423 green labels worldwide. Currently, in 2018, there was a growth of 9.45%, to 463 labels, in the number of labels distributed through 199 countries.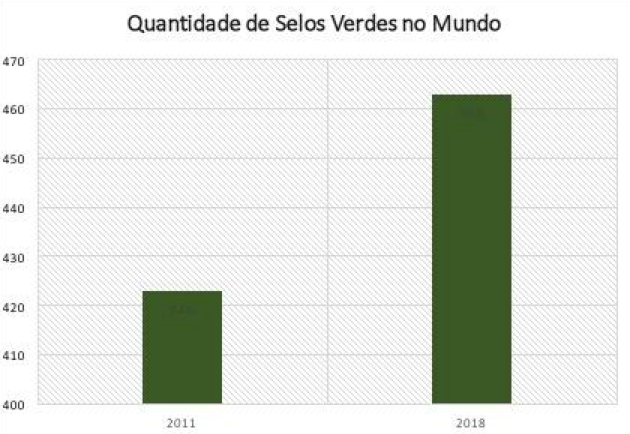 FGV: Estudo facilita entendimento de benefícios do blockchain no financiamento do clima (A study makes it easier to understand the benefits of blockchain in climate finance)
The report, elaborated by Konrad Adenauer Foundation, along with FGV-RJ, addresses blockchain and its practical application in another sustainability topic: climate finance. Please visit goo.gl/N1Wo4M.
Marshall McLuhan: 'The Medium is the Message'
In this series of interviews, the Canadian philosopher insists the medium is not merely a transmission channel, but rather one of the most significant elements of the message to be conveyed. Please watch on goo.gl/cUgNFq.
Massimo di Felice, 'Ecosofia põe a vida no centro do universo' (Ecosophy Puts Life in the Center of the Universe)
The Italian Sociologist and Professor at USP defends a study of plurality and non-centrality of human beings, which includes five lines of instruction: scientific, emotional, practical, spiritual and technological. Please read the interview in edition 97 of Página22 magazine: goo.gl/xGtxWa.
FAQs
 What is blockchain and what is its relationship with bitcoin?
Blockchain is a technology that emerged in 2008 to make bitcoin, the first cryptocurrency, work. This new model of digital currency operates with no need of intermediary institutions for monetary transaction (like banks and governments). Instead, it adopts a decentralized system of networked users, where everybody is allowed access to current information, with no right to change it, but able to trace it back to its origin, which conveys confidence to the data entered. Users are anonymous, since there is no individual or corporate taxpayer number associated to them. However, it always records the IP of the computer used, to ensure the process is secure.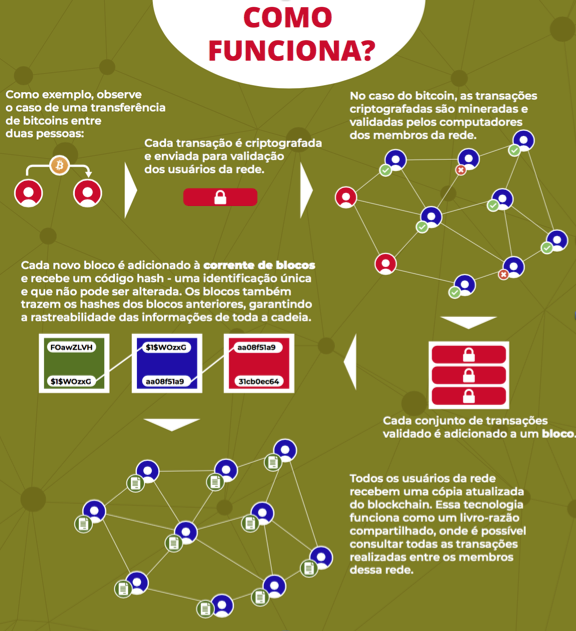 Blockchain works as follows: when a transaction is made between users in the network, it must be validated by other computers in order to be completed, processed and, thus, encrypted. All transactions made in a period of time determined by users themselves (for bitcoin, this time is 15 seconds) are then validated, encrypted and closed in a block, a process that requires computer processing capacity. Once completed, the block record can no longer be changed, thus ensuring the reliability of the following block and of future transactions.
Transactions are validated by the 'consensus rule'', as determined by the group, that is, the technology considers a transaction valid when the rules previously established by the group are observed. For that purpose, users connected to the network make their computer processing power available, a process that is mostly known as mining. However, due to the high computational power required in the process, bitcoin issuance is expected to consume about .5% of all energy in the world by the end of the year (Source: O Estado de S. Paulo newspaper – goo.gl/bDQsXV)
What are the possible applications of blockchain in the real economy?
Given the reliability and traceability the technology conveys to the processes, blockchain is a way to decentralize procedures. So, it can be used to validate monetary transactions or check all the steps in a supply chain. Thus, that new technology can be used in social and environmental certifications, which aim at ensuring compliance with norms in the manufacturing process of different products (food, consumer goods) and even services.
How can the blockchain technology be useful for social and environmental certification in small businesses in the food chain?
Certification audit is a bureaucratic and costly process in Brazil. Currently, organic smallholders are migrating to participatory guarantee systems, as a way to facilitate food production and certification. However, because they require a centralized institution (for organic products, for instance, it is the government, represented by the Ministry of Agriculture, Cattle Breeding and Food Supply – Mapa), paperwork and contracts are still needed to validate the organic production process, which hinders the routine of smallholders. Thus, digital certification, through blockchain (traceable, decentralized and reliable) technology could not only facilitate routine processes in family farming, but also include smallholders in the food chain, encouraged by the elimination of red tape in the process, easy access and language, as well as reduction in transaction costs when compared to other current certification models. Certification can still be used in different production modes, benefiting small businesses in general, such as organic farmers, seamstresses, timber producers etc.
What are the benefits for producers and final consumers?
Concerning food, for instance, choosing certified products values smallholders, which generates incentives in revenue and local development. Consumers, on their turn, can confirm, through blockchain using their mobile devices, whether the product they bought observes the principles of sustainable agriculture and conscious consumption. Therefore, customers will be more likely to trust environmental labels. The approach between consumers and farmers through technology will enable new forms of consumption and the relationship with food.
For conscious and sustainable consumption, the Brazilian National Health Surveillance Agency (Anvisa) recommends:
Choose products that have their origin identified, in other words, products labeled with the famer identification. That identification reinforces the farmers' commitment with the quality of food they produce.
Prefer seasonal produce because it typically has less agrochemicals.
Prefer certified food, for instance, carrying 'organic' product and/or 'Brazil Certified' labels. Certification shows the farmers' professionalism and commitment with sustainable production system protocols previously established by the State in partnership with food production chains.
Go to retail networks that have programs to trace and control food quality.
What is family farming and what is its relationship with organic products?
The law that regulates family production (# 11,326/2006) defines rural family entrepreneurs as those who 'conduct activities in the rural area, own an area of up to four tax modules, use labor of their own family members, have a family revenue associated with their own facilities, and the family members themselves manage their facilities or projects'. (Source: Special Secretary of Agriculture and Agrarian Development, 2016). In this production mode, farmers have a peculiar relationship with the land, which is both their workplace and home. Production activities are the main source of revenue for that population.
According to the 2006 Agricultural Census, 84.4% of the agricultural environments in Brazil are dedicated to family farming. It employs roughly 40% of the active population in the country, which accounts for about 35% of the national gross domestic product.
Family farmers are the major responsible for organic production (which is not necessarily a requirement for that production mode), according to the Agroecology Coordination (Coagre) at the Secretary of Agricultural Development and Cooperativism (SDC) from the Ministry of Agriculture, Cattle Breeding and Food Supply (Mapa).
According to Mapa, the Brazilian legislation considers as organic product, both fresh and processed, one obtained in an organic system of agricultural production or from a sustainable resource extraction process that does not damage the local ecosystem. 'In order to be traded, organic products shall be certified by bodies accredited at the Ministry of Agriculture; certification will not be required only in case of products grown by family farmers who are members of social control organizations registered in Mapa, who trade exclusively in direct sales with consumers.' 
What agrochemicals are contained in your food?  
According to Mapa's definition, agrochemicals are products and agents present in physical, chemical or biological processes used in production, storage and processing of agricultural products, pastureland, protection of forests, both native and planted, and other ecosystems and urban, water and industrial environments. Their purpose is to change the composition of flora and fauna, to avoid the damaging action of living beings considered harmful. Substances and products used as defoliants, desiccants, stimulators and growth inhibitors are also considered agrochemicals.
Currently, Brazil is a world leader in consumption and use of agrochemicals (please see more here: goo.gl/XM4wki). According to DW Brasil (goo.gl/oQ1xZd), there are 484 agrochemicals allowed to be used in the country, and 22 out of the 50 used most often are prohibited in European countries. Best sellers in Brazil in 2016, according to Ibama (Brazilian Environmental Institute) were:
How many ecolabels are there? How many of them are associated with food production?
According to Ecolabel Index, there are currently 463 ecolabels in 199 countries for 25 different industrial sectors. The main labels in the Brazilian market are:
Rainforest Alliance Certified: Ensures that companies that work with agricultural products do not interfere with the biodiversity in the place of cultivation.
IBD: Associação de Certificação Instituto Biodinâmico (Biodynamic Institute Association of Certification) is an organization that develops certification activities of organic and biodynamic products.
Ecocert: A certification body founded in 1991, in France, that came to Brazil in 2001. The organization is currently considered a reference for organic certification worldwide.
PGS: Participatory Guarantee System; allows smallholders to access organic certifications, because it works more like a collaborative and self-inspected community than a certifying body with formal processes.
Certified Humane: An international NGO focused on improving the life of animals raised for food production. In other words, that label assures consumers the purchased product meets animal welfare criteria. 
How and why was this edition of P22_ON magazine produced?
As an initiative of the Center for Sustainability Studies at FGV Eaesp (FGVces), the optional discipline Integrated Education for Sustainability (FIS) selected for its 17th class the following challenge: 'Create and publish an edition of the P22_ON magazine about potential uses of blockchain for social and environmental certifications that facilitate access of smallholders to the market'. For more information about the formative process and the methodological propositions of the optional discipline, please visit: www.eletivafis.com.br.
The main methodology adopted by FIS is Theory U – a process that aims at helping teams learn something new through seven steps: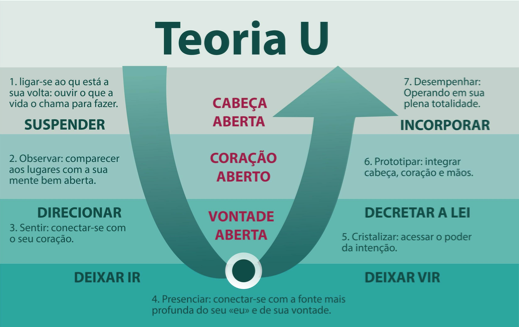 During the fourth stage of the process, when most of the information contained in this edition was collected, FIS 17 students had field visits to five different cities: Sao Paulo, Belem, Manaus, Ilheus (BA) and Uberlandia (MG):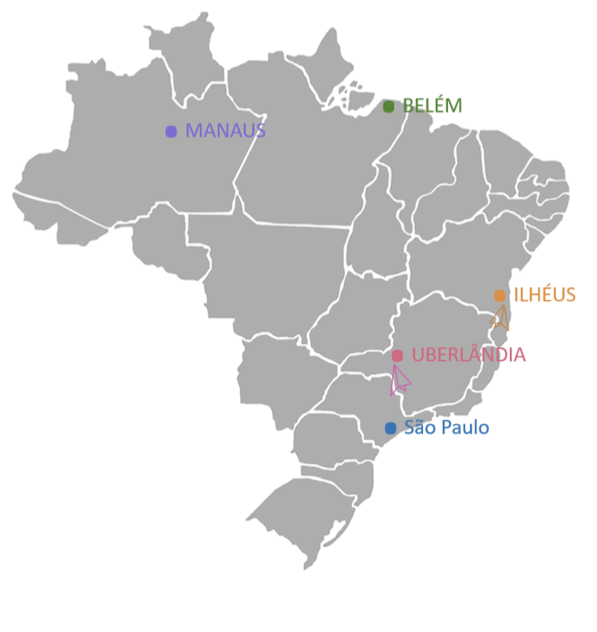 Organizations and people who contributed to the learning process:
Sao Paulo
Cooperapas Agricultura Orgânica Parelheiros SP
André Salem – Co-Founder, Blockforce
Eduardo H. Diniz, FGV
Alexandre Harkaly – CEO, IBD Certificações Ltda.
Angela Bozzon – ABVTEX – Program Manager, ABVTEX
Andrea Werneburg – Business Development Analyst, FSC.
Manaus
REMA – Rede Maniva de Agroecologia do Amazonas
Pagodao Community
Ilheus:
Taboa Fortalecimento Comunitário
Arapyaú Institute
Rede Povos da Mata
CIC – Centro de Inovação do Cacau (Cocoa Innovation Center)
Uberlandia:
Fazenda Boa Vista
Stockler
Dulcerrado
Belem:
Sponsors and supporters:
Itaú
C&A Institute
Gol
Natura
Konrad Adenauer Stiftung
Nespresso
For more information about those organizations, please contact: contato.fis17@gmail.com 
What is the com.fiar team, mentioned in this edition?
The com.fiar team is responsible for producing the content of this P22_ON magazine edition. It is formed by 17 students of the Getulio Vargas Foundation, from Business Administration, Public Administration and Economics, and three employees who work in the companies that support/sponsor FIS classes: Natura, Banco Itaú and FGVces. Learn more about the team members: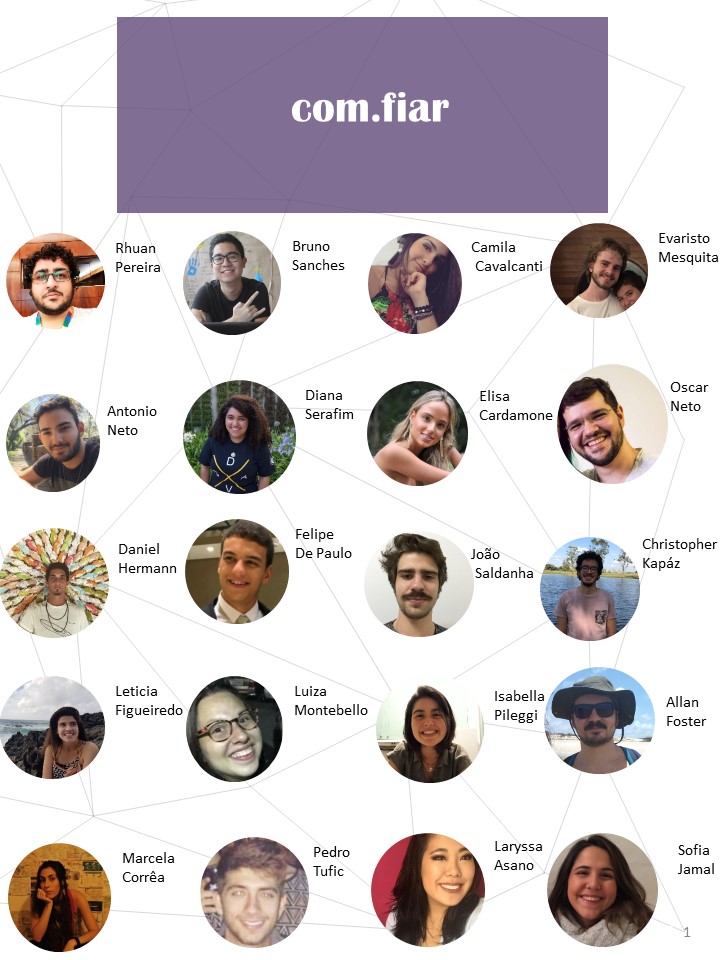 What is the origin of the name com.fiar?
Confiar – In Latin, confidere, com – fidere (believe), which derives from fides (faith). Confiar (Trust) is related to believe, that is, share faith between two people or groups.
(Fiar) – To weave together, collaborate.
Com. – Refers to .com, to represent the context of the Internet and blockchain, and their role in connecting people.
TESTS (in Portuguese)
TEST 1: Tell us what kind of food you would buy, and we will tell you what kind of consumer you are:
When buying your own food, are your choice criteria clear to you? Find out here: goo.gl/ww3HLN
TEST 2: How many planets are necessary to support your lifestyle?
Asking questions about consumption habits and behaviors, the test designed by Rede Clima e Instituição Científica e de Inovação Tecnológica (ICT) calculates your carbon footprint. It is useful to reflect on habits we should eliminate or radically change. Hint: change some of your answers to observe how a simple change could drastically reduce your carbon footprint. Please access the test on suapegadaecologica.com.br.
TEST 3: How much do you know about blockchain?
A lot has been said about blockchain, but do you master the topic? Find out here: goo.gl/GeQjNZ.
QUESTIONS FOR REFLECTION
While preparing this edition of P22_ON magazine, com.fiar team gathered different topics it would like to share with readers. They are questions related to the most varied topics covered in the magazine and their purpose is to raise doubts and pique curiosity, encouraging everybody's critical role. 
Why do organic products need labels? That is, why is it there are no labels specifically for products containing agrochemicals, sorting the different levels of chemical products used during production?
When we go to a grocery store and see organic products sold at a high price, are they in fact expensive? Or are conventional products sold at a much lower price?
Even though implementing blockchain technology, how can we ensure the first piece of information entered into the system is true?
How can we trust a new technology?
Is blockchain technology really disruptive, or is it only a new way to present the same type of information?
At the grocery store, does the existence of social and environmental certification labels really make a difference during purchase?
Do you know the difference between the various labels?
Won't the low price of non-organic products be charged from consumers in the long term? In other words, when choosing non-organic products, will what we save now be charged in the next decades, to treat some form of disease caused by agrochemicals?
What drives the purchase of organic products: is it just a fad, or a search for benefits to our health?