By Allan Foster and Elisa Cardamone
Have you ever thought of how the food you consume reaches your table? Although they do not have the acknowledgment they deserve, smallholders play one of the most relevant roles: they feed the country. According to the Ministry of Social Development (MDS), family farming accounted for 70% of the food that reached the population tables in 2017. In addition to supplying the domestic market, controlling inflation of food consumed by Brazilians, and employing a significant percentage of labor in the field, smallholders fight hunger and ensure our food security.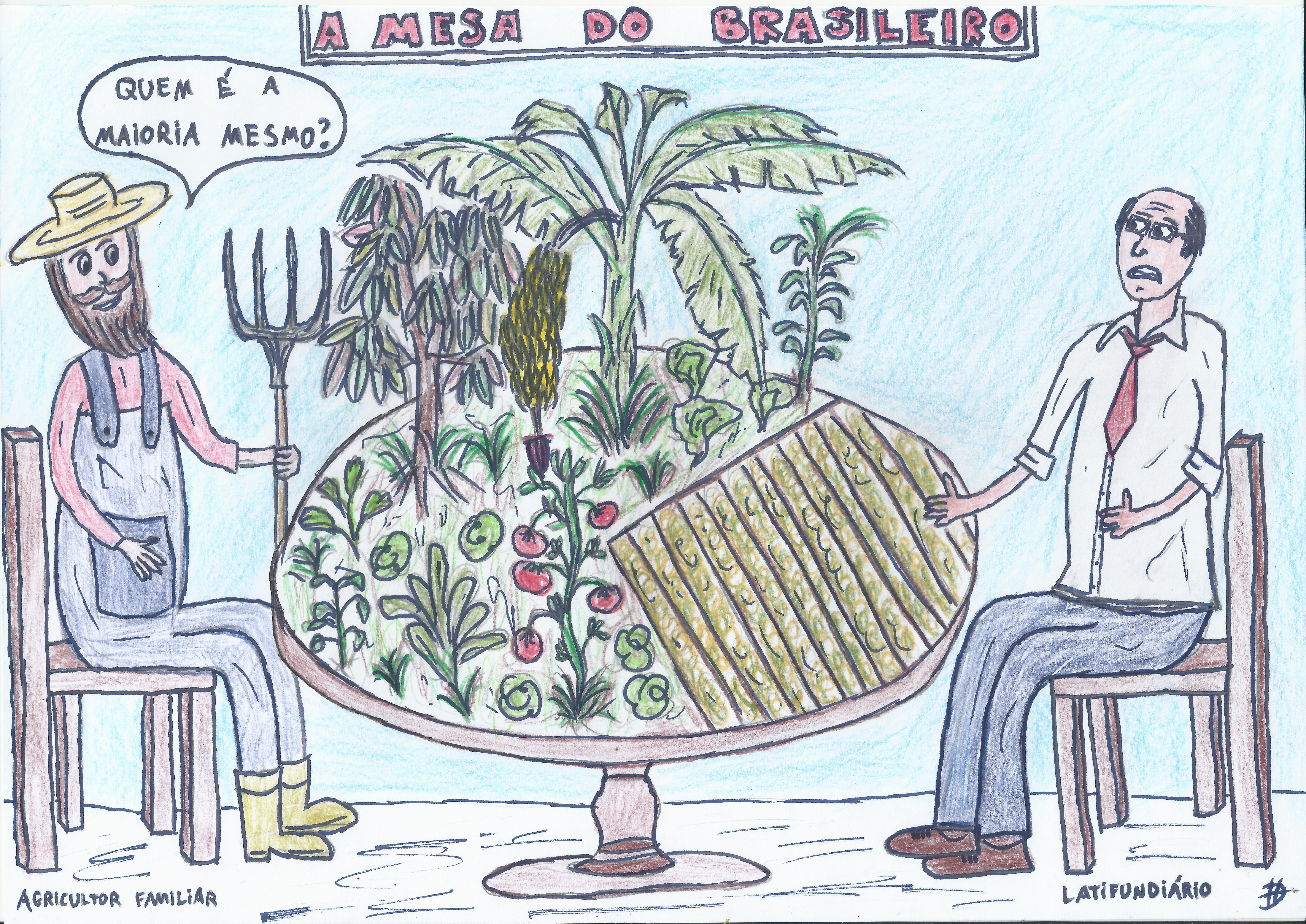 In spite of that great relevance, smallholders find obstacles to perform their tasks. Besides facing social problems, they are highly neglected by public and private spheres and, therefore, have difficulty to enter the market, both for the lack of incentives and financial resources, and for bureaucratic issues.
Often, the only way those producers can make their products available to end consumers is through middlemen, whose price policies depreciate producers' labor and remuneration, at the same time increasing prices of final products. That dynamic reinforces unfair relationships between the field and the city, prevents producer's development, and hinders, from the consumers' perspective, access to products at a fair price, taking into consideration all production costs. Therefore, products laying on the shelves of large supermarkets are often associated with poor labor conditions and do not reflect fair remuneration to producers.
At the same time, there is a growing demand in Brazil and in the world for healthier products – both for consumers and producers – that respect labor conditions and the environment. This represents a great market opportunity for those producers, and adds value to production. The path to access those markets, however, relies on getting social and environmental labels, such as the organic certification. This opportunity is filled with difficulties, as we will see in this article and throughout this edition of P22_ON magazine. One way to overcome obstacles is to adopt new certification formats and adhere to technologies such as blockchain, even though it does not address all the complexity contained in the universe of family farming. But, before that, let's understand how we got here. 
Green Revolution and its impacts
With the Green Revolution, the production mode in the fields has radically changed. Most producers have adopted massive machinery and broad use of agrochemicals and fertilizers, aiming at increasing productivity in their properties. Thus, cultivation practices using agrochemicals have become conventional and predominant in the field.
Smallholders had to adapt to that new production model, since use of agrochemicals and fertilizers is understood by financial institutions as security for harvest. According to those institutions, agrochemicals ensure production and, consequently, producers' remuneration, which will guarantee payback of the financing. Therefore, if producers desire to access credit lines and financing, not rarely they must declare they adopt those practices in their property, even though it is not true.
However, that new agricultural model resulted in a number of impacts on the environment and human health. According to Dossiê Abrasco, published in 2015 by Abrasco (Brazilian Association of Collective Health), Fiocruz, among other research institutions, intensive and indiscriminate use of agrochemicals led to contamination of soil, water, and even breast milk (please visit goo.gl/numwRA)
The association of agrochemicals with neurological diseases and hormone disorders, combined to alarming data such as the fact that Brazil is the largest world consumer of agrochemicals and that the country uses agrochemicals that have been banned in other countries, like the ones in the European Union, makes a growing percentage of the population question that production model.
One of the effects of that questioning is an increase in the demand for products that, even though inserted in that production model, have less associated environmental and social impact. In this context, social and environmental certifications seek to respond to the wish of this part of the population by creating systems that will guarantee responsible practices from the environmental and social perspectives.
In parallel, on the demand side, the search for healthy food, i.e.; agrochemical-free, coming from more sustainable production systems such as organic production methods, is a trend that has been reinforced and consolidated worldwide (learn more in the article entitled Demand).
Although still lagging behind, the Brazilian market follows that trend. In 2016, there was a 20% increase in the domestic market for organic products, and the estimated revenue was BRL 3 million. According to the Conselho Nacional da Produção Orgânica e Sustentável (Brazilian Council of Organic and Sustainable Production), the percentage was even higher than in previous years (please see more in the article entitled Supply I).
At first, for consumers, certifications seem to be a good way to ensure products they buy have been through production processes that had reduced environmental impact, complied with the legislation and are, to a certain extent, sustainable. Considering that differentiator, certified products have higher added value, and certification becomes key to accessing demanding markets, such as the European Community.
Also, public policies start acknowledging the relevance of certified products. For organic food, for instance, specific credit lines were created and it gained important space in public procurement: currently, the lunch offered at public schools must consist of certified organic food.
In spite of addressing issues of environmentally and socially responsible production, certifications are not so inclusive with smallholders. In order to access the benefits of the certified product market, producers must face a number of bureaucratic procedures, in addition to afford the high costs associated with the auditing process (please see more in the article entitled Certification).
For organic products, for instance, in addition to the costs involved, the certification is obtained through surveillance visits and audits conducted by certifying bodies accredited at the Ministry of Agriculture, Cattle Breeding and Food Supply (Mapa) and the Brazilian National Institute of Metrology, Quality and Technology (Inmetro).
According to a study conducted in 2018 by Sebrae (Brazilian Service to Support Micro and Small Businesses), there are only 16,000 organic farmers registered at Mapa, out of which 6,257 are certified, 5,084 are registered through the Participatory Guarantee System (PGS), and 4,692 participate through direct sales with social control. The figures are modest if compared to the 90,000 properties using organic techniques, according to the 2006 Agricultural Census.
The figures indicate the certification process is still not very inclusive. Among the reasons to explain that, is the fact that limitations in the structure of small properties are not taken into consideration. Often the requirements are unattainable for family farmers, ignoring the context and the reality of specific production systems like the ones used by traditional populations. Even though complying with the standards required by the label, they get stuck in bureaucratic issues.
Possible alternatives
The most common certification method is auditing, which is when an expert institution attests, through (usually annual) visits, that the organization operates in a responsible manner, not damaging the environment and the society. However, this is a costly service.
But, in order to overcome the obstacles of a traditional certification audit, an alternative found by smallholders is the PGS, a mechanism involving solidarity forms of social control that does not rely on the participation of an external institution. It started in Brazil as a result of social pressures and was acknowledged by the Law of Organic Products.
The system works based on a network of producers, aiming at overseeing whether the practices adopted by other members of the group comply with organic production regulation. Regularly, they visit one another's properties and check whether they are compliant. The label they get is collective, meaning if one producer does not comply with the norm, they will all lose their certification.
PGS was successful in overcoming the obstacle posed by high costs of the certification audit system. However, the bureaucracy required is still significant. In addition to that, the Brazilian system, despite allowing for the use of the organic product label, is not acknowledged in other countries.
Another alternative, as surprising as it may be, is blockchain. Recently created, that technology, which is behind cryptocurrency, is increasingly used in different applications in a number of industries. The main characteristic of the emerging technology is to allow traceability, through a decentralized system, of all transactions made throughout the production process (please read more about blockchain in the article entitled Technology).
The new tool may eventually be an alternative to enable the certification process for smallholders, since their foundation resemble the rationale behind the Participatory Guarantee System. Just like PGS, blockchain is a networked system that fosters transparency and security, and shares information through active participation of system members.
Blockchain can be understood as a new technology involving connection and reliability.

Connection: With the goal of enabling transactions between people, here is how it works:

A transaction is made and stored in a block.
Of one the participants, randomly chosen, is selected to validate the block.
After validation, information from the new block is disseminated in the network.
If most members agree (51%), the block is inserted into the network.

Reliability: Blockchain involves a decentralized database, with no intermediaries, immutable, resistant and public. Therefore, blockchain is based on the reliability of the system as a whole, not of the emitter.
In summary, blockchain technology is a system based on users' collaboration, characterized by a collective experience, since it is embedded in a distributed environment on the Internet. Thus, it can be understood as a way to automate PGS process, since both have common principles and bases.
Also, blockchain can be a more assertive way than conventional certifications. Certification audit checks what has been done and, by analogy, it 'takes a snapshot of the current moment'. Whereas blockchain can be compared to a movie, since it records the entire process throughout time.
However, it is worth questioning: considering smallholders find it difficult to get financing and structure, can blockchain actually solve that problem? Or will the technological challenge be one additional barrier for producers? (Learn more in the article entitled Supply II)